On February 26th, Hollywood's finest actors and actresses, directors, cinematographers, writers, musicians, and more will gather and be honored for their work in film from the past year. The 89th Academy Awards will be a star-studded event that you won't want to miss. If you are planning to watch this year, here is how you can throw an Oscar-Winning party that you and your guests can all enjoy together.
Serve your guests foods on a movie-themed placemat fit for the evening. The Cinema Placemat Set is the perfect accessory for your award-wining table display. These mats come in both green and blue and feature that classic movie rating screen that plays before the film begins. Everyone will get such a kick out of these clever additions to your party on Oscar night.
Perhaps your party is going a bit more extravagant and you'll have a cheese platter with wines. What better way to serve those great cheeses than with the Say Cheese Cheeseboard? As celebs are smiling for the cameras on the red carpet, your dishes can get the Hollywood treatment on this fun serving board. So when you or your guests reach for the cheese, they can say cheese each time.
If there is going to wine to go with that cheese platter, then you'll need some way to distinguish one person's glass from the next. With the Wine Glass Writers set, you'll get three markers in different metallic colors that are perfect for writing names or other means of identifying each glass.
The votes are in and critics are giving your party two thumbs up! Bring a little humor to your evening with the Social Media Shot Glasses. These recognizable Facebook icons will let everyone know that you "like" this party and are going to "share" your experiences with others later.
And the Winning Foods Are…..?
What can go better with a night all about honoring movies than the very snack food that defines the movie-going experience? Enjoy your evening with some classic Movie Mix Theater Popcorn thanks to this recipe from Pop-Secret.
DIY Popcorn Bar
Create your own popcorn bar for guests to choose their favorite flavors. Need help choosing flavors? Try these 5 Fabulous Popcorn Recipes For An Oscar's Party courtesy of buzzfeed.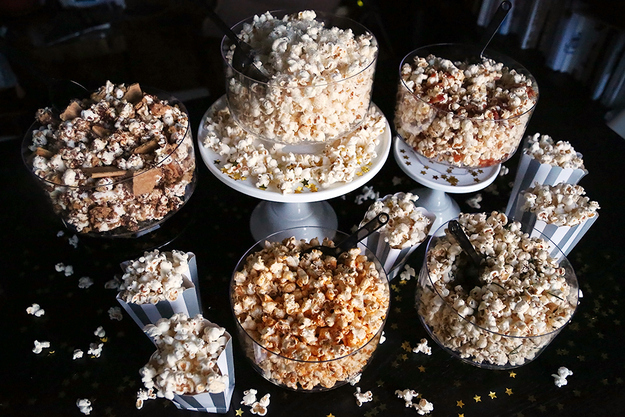 Check out this guide on perfect wine and popcorn pairings for an Oscar's party courtesy of theglitterguide.com
Candy, Candy, and More Candy!!
Besides popcorn, candy is another popular choice when going to watch a movie. Leave out bowls of different brands and flavors of candies and let your guests feel like they are at the theater as they snack on these sweet favorites.